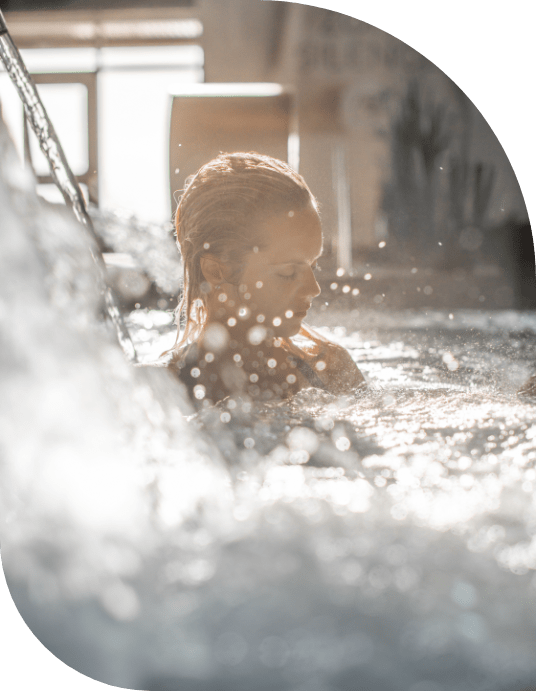 Watergenic Spa
An intimate water course
that inspires relaxation
Rebalance your interior, relax your body, let the water wrap around you and enjoy this moment of refreshment and wellbeing!
The therapeutic properties of water are well known for purifying, revitalizing and toning the body as well as for alleviating certain pains. Hydrotherapy is a natural process that uses water in various forms: liquid, vapour, ice and various temperatures. At Noah Spa, we offer a full line of hydrotherapy treatments including the watergenic pool, that you won't find anywhere else!
Book your appointment today


Heat Sources
Hammam and dry sauna
a total well-being
Hammam and dry sauna are two techniques that use water vapour to provide a feeling of wellbeing and relaxation, to help combat anxiety and stress, to promote the elimination of toxins and dead cells. Heat can help alleviate arthrosis.
Spa 39 °C (102 °F)
Provides a deep relaxation for the body, dilates pores and blood vessels (with zones for the lower back and the calves)

Cold Sources
Cold water bath
a dramatic effect
Invigorates the body, creates a vasoconstriction of blood vessels and the skin pores, as well as stimulating the senses (use after a heat source)

Relaxation areas
Prolong the pleasure with a rest period in our relaxation areas.
Live the Noah Spa experience
Follow the steps for the ultimate experience.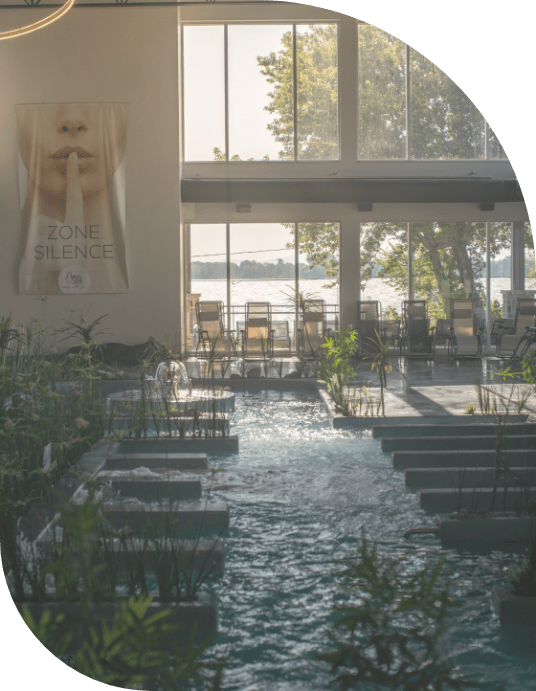 Step 1
Watergenic pool
45 min. to 1 hr.
Step 2
Step 3
Cold water bath
2 to 5 sec.
Step 4
Repeat steps 2 to 4
Pricing and member benefits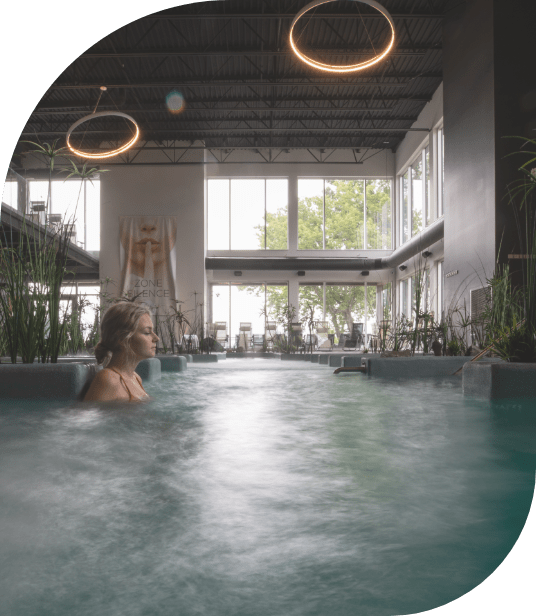 Baths Full Day and Evening
Weekdays
Monday to Tuesday 3 pm to 5 pm,
Monday to Tuesday 10 am to 5 pm, Thursday 10 am to 8 pm
Wednesday 10 am to 5 pm
Weekends
Friday to Saturday 10 am to 8 pm, Sunday 10 am to 5 pm
$70
Half-day/4-hour block option
$60
* Access to the watergenic spa including: towel, bottle of water, locker with lock, rest/refreshment area, watergenic spa, int./ext. spa, hammam, sauna, cold bath. Sandals are also available for purchase ($10). Sandals are required.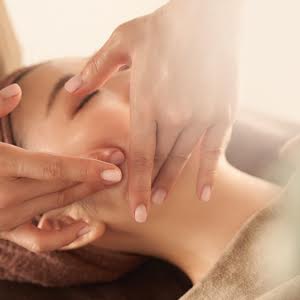 Baths Full Day with Treatment
Monday to sunday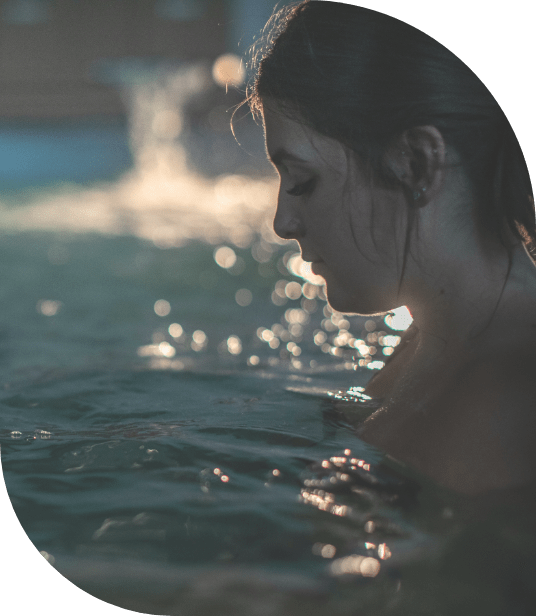 Baths Evening
Weekdays
(Thursday) 5 pm to 8 pm
$40
Weekends
(Friday to Saturday) 5 pm to 8 pm
$45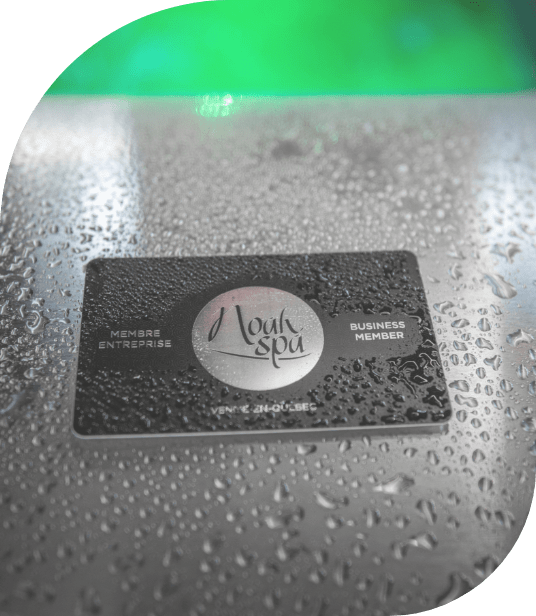 Carte de membre
Accès spa eaunergique simple
Abonnement 1 mois
400$ +tx
Abonnement 3 mois
700$ +tx
Abonnement 6 mois
1 400$ +tx
Abonnement 1 an
2 400$ +tx
Watergenic Pool
Salt water at 29°C (85 °F) : 8 stations with distinct benefits (Duration approximately 45 min.)
Follow your own rhythm. Go from station to station and discover the benefits of the massage jets on the different areas of the body: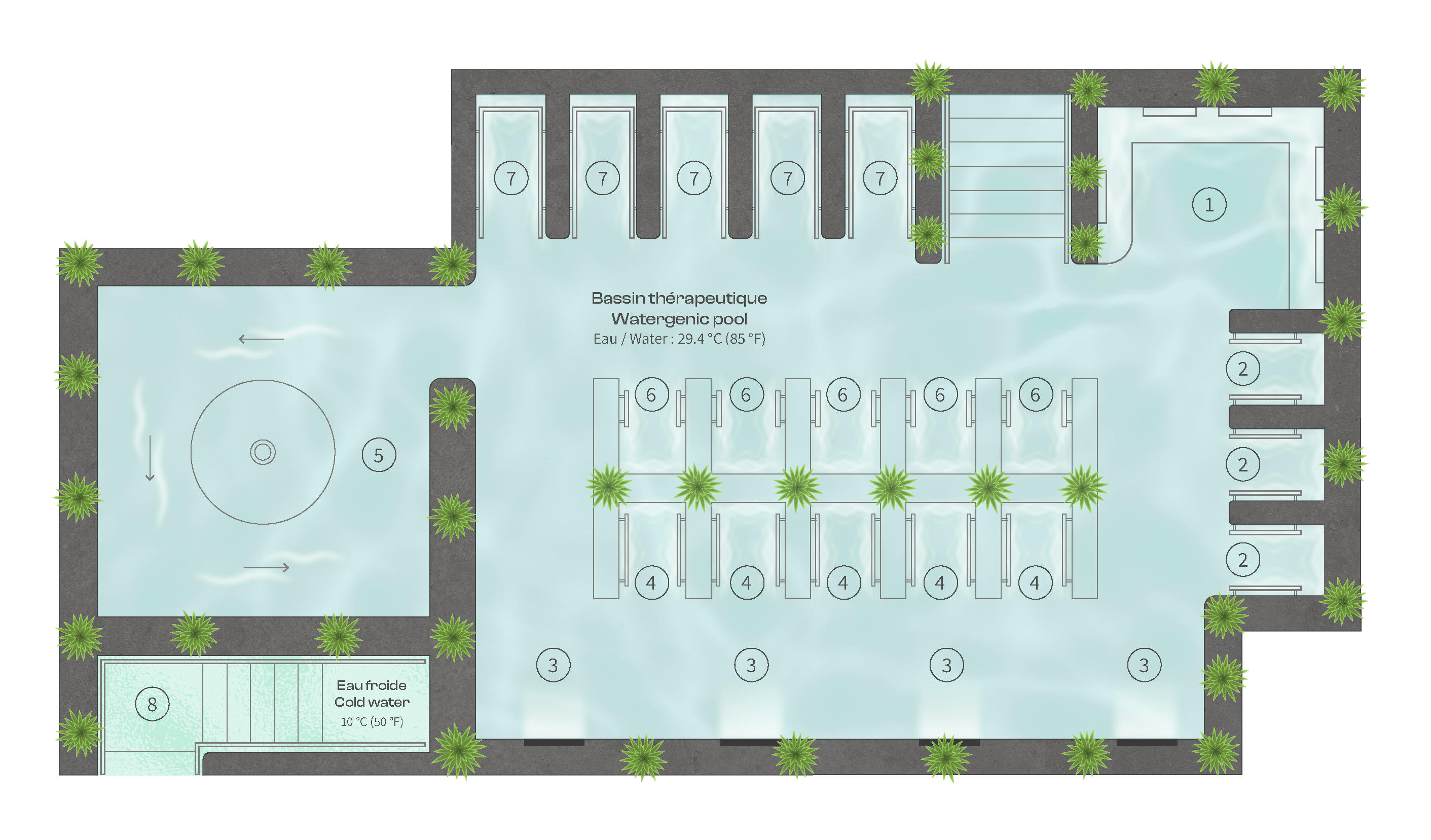 Before Bathing


– Put on swimwear
– Attach your hair
– Take a shower in the change room or next to the pool before starting the hydrotherapy session
– After a massage, rinse off under the shower
– Use sandals when moving around the site
Contraindications


– Leave time for digestion after a meal
– Venous insufficiency, heavy legs, varicose veins
– Phlebitis, cardiovascular diseases, epilepsy, depression, low blood pressure, kidney stones, certain inflammatory or muscular ailments, fever
– Pregnant women
1. Water jet bench
Deeply massages the back and calf muscles.
Lower back and legss
2. Air jet cubicle
Relaxes the body and massages the feet, legs and lower back.
For the feet, legs and back
3. Water fountain
Releases stress tension in the back of the neck and trapezoids.
Neck area
4. Water jet cubicle
Relaxes the body and massages the feet, legs and back.
For the feet, legs and back
5. Counter-current walking corridor
Tones the musculature and activates the heart rate.
Full body
6. Water and air massage cubicle
Releases toxins built up in the muscles by muscular fatigue.
Full body
7. Individual massage bed
Alleviates muscle and joint pressure through a sensation of weightlessness.
Muscles and joints
8. Cold bath with massaging waterfall
Reduces muscle aches and soreness, revives the skin and improves blood circulation.
Muscles and skin
*Drinking water is essential for eliminating toxins and for staying hydrated.